Stone Chip Coated Roof Tile Machine with Slitting Line
Stone chip coated roof tile machine also named stone coated machine or stone coated roof machine.Stone chip coated roof tile is a modern environmentally friendly roofing material .Covering color vermiculite surface which carried under the high temperature.
Stone chip coated roof tile is formed by 0.4mm Al-Zn plating panel and color stones. It is modern,environmental and nice appearance. stone coated roof is a new advanced roof material which adopt the high and new technology,use the non-corrosibility Al-Zin steel as the basic plate,use the acrylic resin which has the good weather resistance as the adhesives,use the colorful natural sandy gravel as the surface.Because of its nice appearance,lightweight,durable and environmental,it is becoming the major product in the international roof materials in recent years, and it is also used in the high-grade building in domestic,it is enjoying a great popularity all over the world.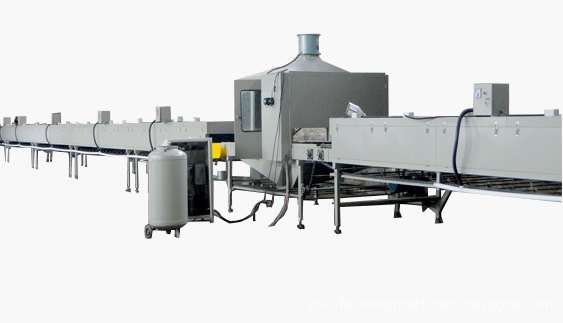 A sample profile drawing: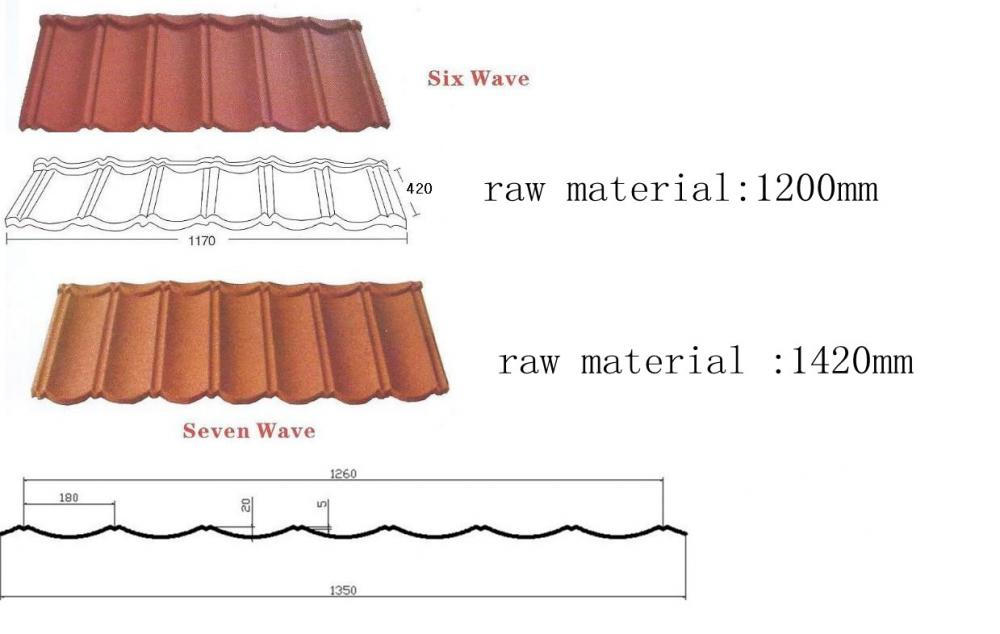 the type of rool tile we can do:


Component and production process of Stone chip Coated Roof Tile machine
Decoile ---slitting and cutting part--- 200T Press profile machine---Lace shearing machine---Stone coated machine(Auto bottom glue spraying section---Auto stone coated section---The first time drying section---Auto face glue spraying section---The second time drying section---Mixer of sand)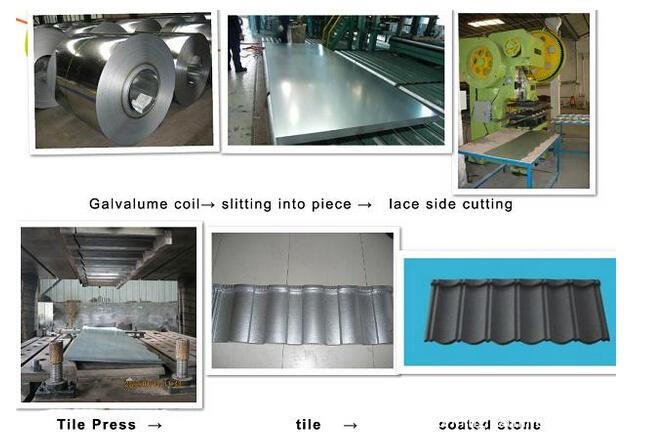 The main parameters of Stone chip Coated Roof Tile machine:
Main raw material : 0.4mm aluminum plate,or as customer requirement.
Normal feeder width:914mm (change by profile)
Material of mold: D2/GCr12MoVo
Slitting speed:10m/min
Total power: 250kw
Productivity: 3-6m/min Calculate as 1.2m per piece, eight hours,
produce 1500pcs every day
Machine weight: 35T
Production condition: need plant area 2000 square meter(25m*80m)
Container need: two 40 GP and one 40 HQ
Detailed information of Stone chip Coated Roof Tile machine:
1.slitting and cutting line
Shaft material: 45# steel,
outer diameter 85mm
Number of shaft:1 step of feeding, up: 5 pieces, down: 6pieces
Gear transport
Forming speed :10m/min
Main motor power:3kw
Mini slitting width:150mm
Max slitting quantity:6 Pieces
Width tolerance: ±1mm
Slitting Speed 10 m/min
Slitter distance can be adjusted
Slitter material: 9CrSi
the slitting and cutting can work separately.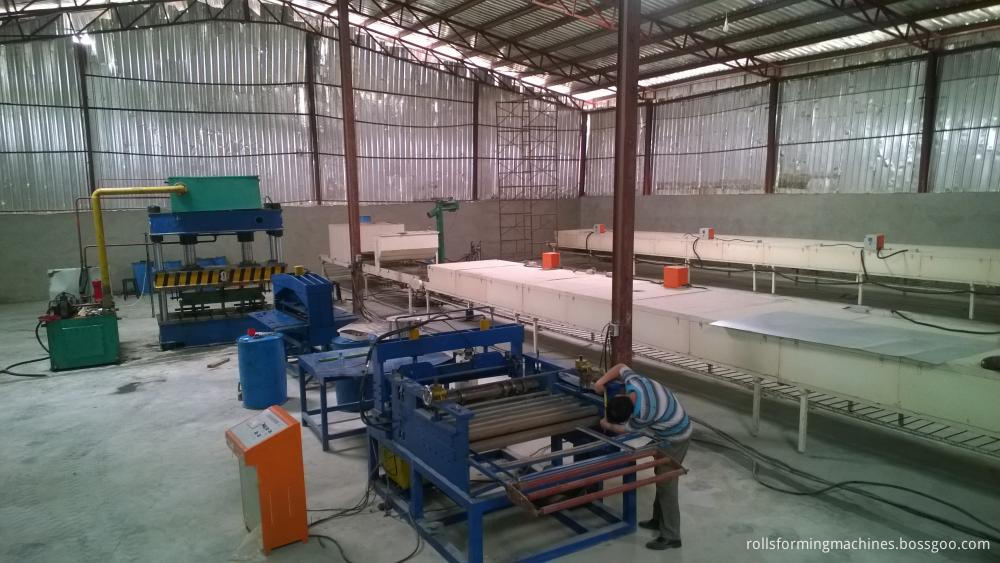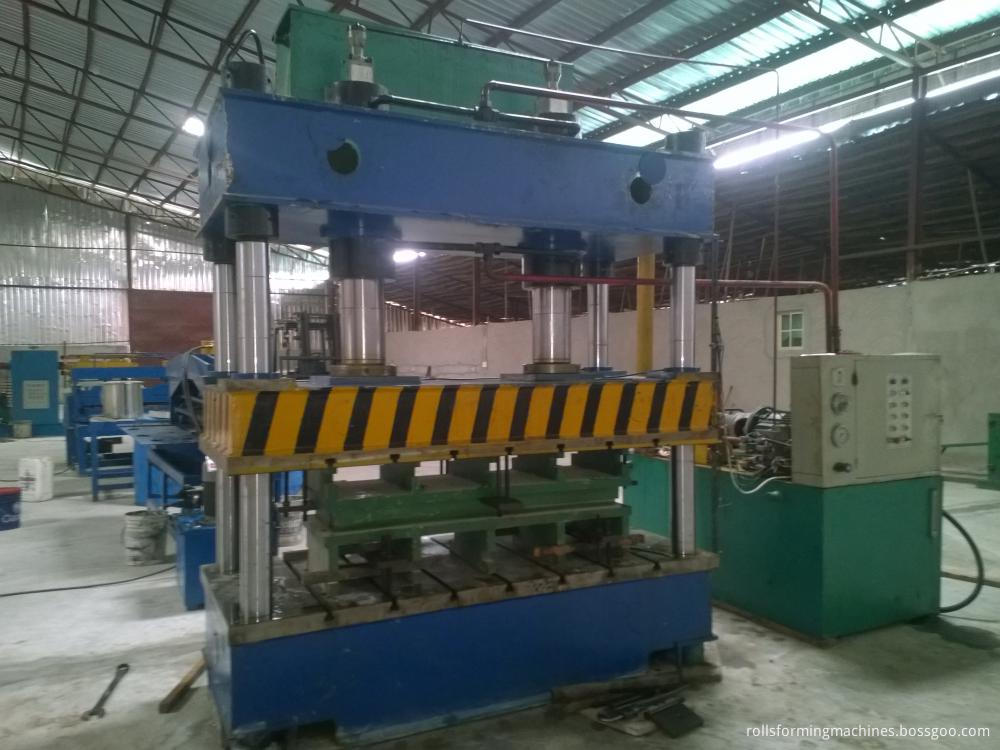 Auto bottom glue spraying section for stone coated machine
Outside Dimension:800*1350*850mm(L*W*H)
structure:Channel steel ,welded Transmission:2.2 kw Variable-frequency
adjustable-speed motor 0-32R/Min
Conveying device: Reciprocating chain conveys
Automatic glue spraying assembly with motor:0.06kw
Adsorption of dust removalequipment:1 set
Air compressor:1 set 0.09m³
Airless spray glue pump:1 set
Automatic glue spraying gun: 1 piece
Fill glue gun: 1 piece
5.Auto stone coated section stone coated machine
Outside Dimension :3000*1850*700mm(L*W*H) Structure:Channel steel ,angle steel ,welded
Transmission:With glue spraying equipment compound chain transmit
Conveying device:Compound chain transmit
Automatic sand hopper:1 set(dimension 550*600*500mm)
Automatic rising machine:1 set(Rising height:1.9m Power:300kg/h)
6.drying section for stone coated roof machine
Outside Dimension :25000*800*1200mm(L*W*H)
Structure:carbon steel welded Frame type heat preservation wall:fill up with heat preservation material which is bended with 1mm carbon steel
Automatic temperature controller:2 sets,Range of adjustable temperature:0-160°
Infrared fluorescent tube:50 pcs
Conveying device: Reciprocating chain conveys
Cool device:1 set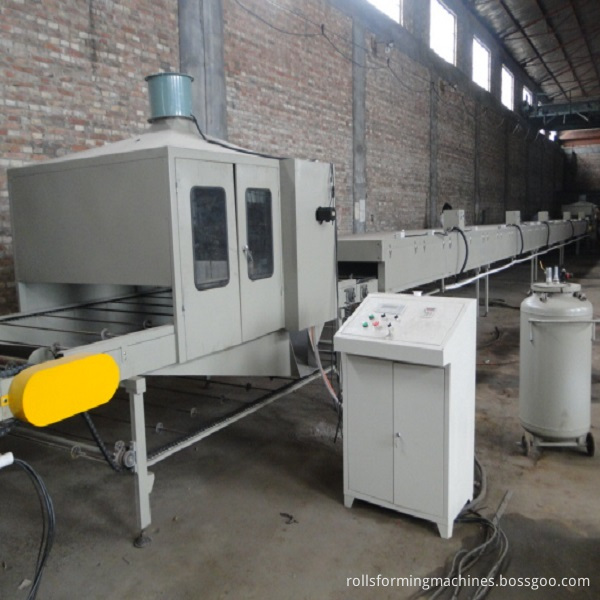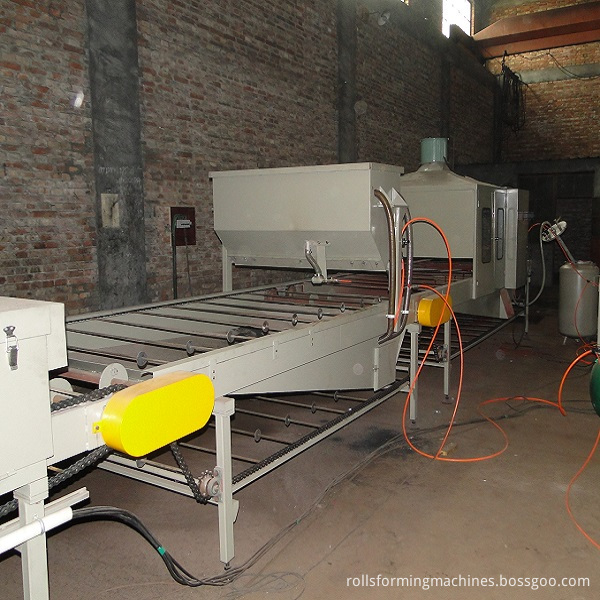 The video of Steel Stone Roofing Tiles Making Machine
1. roof tile making mchine:
2. stone coated machine